"We Are Where You Want To Be!"

The North Oakland County Board of REALTORS® was established in 1921 when a small group of real estate brokers joined forces to form the Pontiac Real Estate Board.

Pre-License Course Registration

NOCBOR in conjunction with Middleton Real Estate Training is offering a 1 week pre license class! (40 hr. cram session)
Class Dates: Monday, October 2 - Friday, October 6 (9 a.m. - 6 p.m.) *Class held at NOCBOR, Waterford.
Class Review: Friday, October 13 (6 p.m. - 10 p.m.) *Class review will be held at Middleton R.E.Training, Troy.
Class Final: Saturday, October 14 (8:30 a.m. - 4:30 p.m.) *Finals will be held at Middleton R.E.Training, Troy.
Cost: Class fee $230/ Materials $75 = $305 Total
**PLEASE NOTE: IT IS REQUIRED THAT YOU PICK UP THE MATERIALS AT LEAST ONE WEEK PRIOR TO CLASS BECAUSE THERE ARE PRE-READING REQUIREMENTS. MATERIALS WILL BE AVAILABLE TO PICK UP AT NOCBOR IN WATERFORD & AT MIDDLETON REAL ESTATE TRAINING IN TROY.
Complete the form below and/or Contact Middleton Real Estate Training to Register or if you have any questions.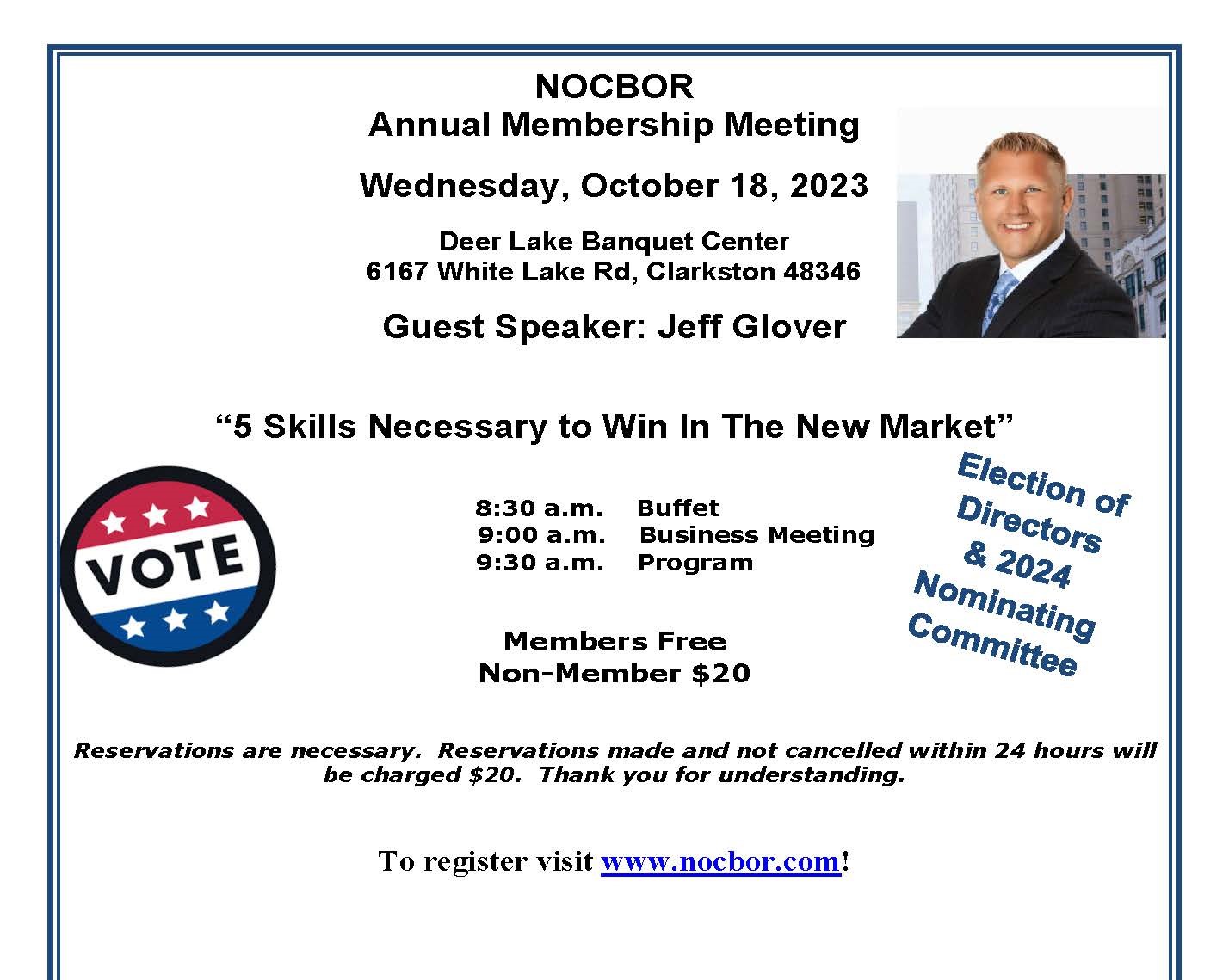 Annual Membership Meeting - Wednesday, October 18, 2023

NOCBOR Members can register in their NOCBOR member portal or complete this registration form. Click Here to complete the registration form. Completed forms can be sent via email to: [email protected]. Guest speaker Jeff Glover will discuss "5 Skills Necessary to Win in the New Market". In person voting to elect NOCBOR Directors & 2024 Nominating Committee!! The breakfast buffet will begin at 8:30 a.m. This meeting is free for NOCBOR Members/ $20 Non-Member. Reservations are necessary.


CAPTRUST is working on a community service project that will upcycle something we all have too many of- plastic grocery bags. We are looking to collect at least 600 bags that we will then cut up into strips and create "plarn" (plastic yarn). Their talented crocheters will then transform the plarn into sleeping mats. The mats serve as a helpful moisture barrier for people who are sleeping outdoors. It is our goal to collect as many bags as we can to make these mats more accessible to the people who truly need them. It takes 600 plastic bags to make one bed. It is also a great way to keep 600 plastic bags out of our landfills and waterways.
How can you help? We need your plastic bags! We are specifically looking for a typical handled grocery bag. We cannot use thicker, nicer bags, or bags of different sizes. But if you have a stash of old Kroger/Meijer/Target bags somewhere, please bring them in and deposit them in the collection box.
NOCBOR will be collecting bags until Thursday, November 2.